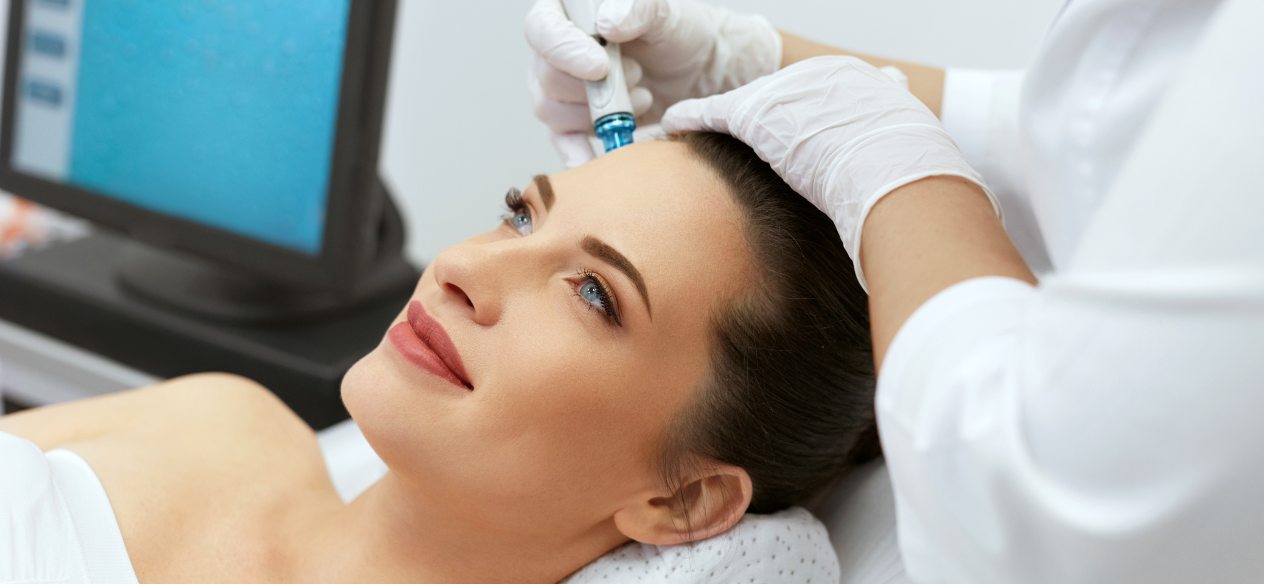 What is Hydrafacial Dermalinfusion?
A HydraFacial is a non-invasive skin treatment. It involves deep-clean exfoliation paired with hydrating serums.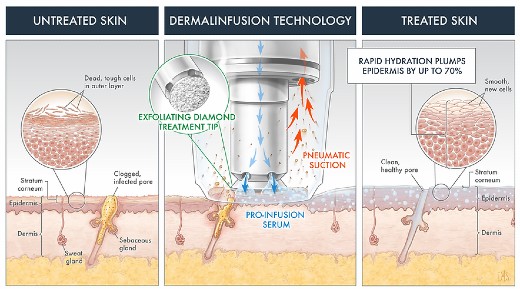 What system system is used?
The SilkPeel Dermalinfusion treatment is a skin resurfacing facial that simultaneously exfoliates and suctions away dead skin cells, while applying customized serums to treat specific skin conditions. SilkPeels uses a gentle vacuum that exfoliates the outer layer of skin while opening the pores at the same time. Great solution to treat following skin conditions include:
Acne

Brown spots

Sun damage

Fine lines and wrinkles

Post-inflammatory hyperpigmentation

Dry skin
What technology is behind?
The SilkPeel® Dermalinfusion technology is a completely unique, non-invasive skin perfecting procedure that has instant results. This is the only diamond-tip procedure that exfoliates and infuses the skin with various treatment serums specially formulated to treat specific skin conditions like acne, dryness, pigmentation and aging. SilkPeel requires absolutely no down time and is one of the few procedures in which skin shows immediate and noticeable improvement in volume, hydration, tone and texture. This patented technology is excellent for all Skin Types. The best results are achieved with a series of treatments, followed with a recommended maintenance program. The hydrafacial treatment results in exfoliation of the dry, dead skin cells that result in a dull, sallow complexion, setoxifying lymphatic drainage, fuller, firmer skin by the volumizing effect SilkPeel has on all Dermalinfused skin, increased circulation by stimulating blood flow to the surface of the skin.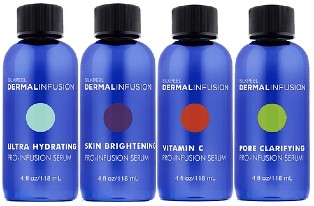 Hydrafacial Dermalinfusion Solutions
We always using the best solutions during the treatment for all of our clients. For hydrafacial we use SilkPeel patented, four different serums:
Ultra Hydrating Pro-Infusion Serum delivers intensive hydration using Hyaluronic Acid. It treats Dehydrated skin, lack of volume, dull and lackluster skin.

Clarity Pore Clarifying Pro-Infusion Serum uses a combination of Salicylic Acid, Bakuchiol, and Oregano Oil for its hydrating properties to gently exfoliate clients and treat acne, breakouts, and dry skin.

The Patented Lumyxl Brightening serum combines various unique brightening agents that are used to lift and lighten existing pigments due to post inflammation or sun damage.

The Vitamin C Pro-Infusion Serum infuses the skin with a potent dose of vitamin-C. Vitamin-E and Grape Seed Extract which delivers powerful antioxidants as well as anti-aging and brightening benefits to the skin
LED Light Facial
We are always recommend to add LED Light Facial to finish Hydrafacial treatment. The LED emits certain frequencies of light which reduce fine lines and wrinkles, stimulate collagen production, and increase new tissue growth.